The potential powers of these cells have researchers excited. But what that scientific hope means for expectant parents facing decisions about cord blood banking is far from clear. For all of the promise, there are lots of reasons why umbilical cord cells may turn out to be less useful than thought. Read my next post for more about these potential drawbacks.
There are two main types of cord blood banks: public and private. Public cord blood banks are usually nonprofit companies that store your donated cord blood for free, to be used for any sick child in another family or for research purposes, so accessing and using your own cord blood is not guaranteed. Private cord blood banks are companies that require a registration fee (plus annual storage fees) for your cord blood, but it is saved specifically for your own family, so you'll have ready access to it.
Throughout the last few years, cord blood banking has turned out to be one of the most viable and commendable medical advancements. Wondering what is cord blood? Well, this is the blood extracted from the baby's umbilical cord. The entire procedure, during which the blood is extracted, turns out to be painless and safe both for the child and the mother. On top of that, the baby, his family members, and many other individuals can enjoy high health benefits from the procedure of cord blood banking. So simply read along to know better about cord blood storage as well as overall cord blood banking procedures.
"This is a medical service that has to be done when your baby's cells arrive and you certainly want them to be handled by good equipment and good technicians," says Frances Verter, Ph.D., founder and director of Parent's Guide to Cord Blood Foundation, a nonprofit dedicated to educating parents about cord blood donation and cord blood therapists. "It's just not going to be cheap." Although the American Academy of Pediatrics (AAP) states cord blood has been used to treat certain diseases successfully, there isn't strong evidence to support cord blood banking. If a family does choose to bank cord blood, the AAP recommends public cord blood banking (instead of private) to reduce costs.
Targeted efforts should be made to recruit underserved minorities (black, Hispanic, American Indian/Alaska Native individuals) in public cord blood–banking programs to extend to them potential treatments afforded other segments of society.
In recent years, umbilical cord blood, which contains a rich source of hematopoietic stem and progenitor cells, has been used successfully as an alternative allogeneic donor source to treat a variety of pediatric genetic, hematologic, immunologic, and oncologic disorders. Because there is diminished risk of graft-versus-host disease after transplantation of cord stem cells using matched related donors, the use of less-than-completely matched HLA cord blood stem cells may incur less risk of graft-versus-host disease than mismatched cells from either a related or unrelated "walking" donor, although this remains to be proven. Gene-therapy research involving modification of autologous cord blood stem cells for the treatment of childhood genetic disorders, although experimental at the present time, may prove to be of value. These scientific advances have resulted in the establishment of not-for-profit and for-profit cord blood–banking programs for allogeneic and autologous cord blood transplantation. Many issues confront institutions that wish to establish or participate in such programs. Parents often seek information from their physicians about this new biotechnology option. This document is intended to provide information to guide physicians in responding to parents' questions about cord blood donation and banking and the types and quality of cord blood banks. Provided also are recommendations about appropriate ethical and operational standards, including informed consent policies, financial disclosures, and conflict-of-interest policies for physicians, institutions, and organizations that operate or have a relationship with cord blood–banking programs.
Umbilical cord blood stem cells are different from embryonic stem cells. Umbilical cord blood stem cells are collected by your ob-gyn or a nurse from the umbilical cord after you give birth (but before your placenta is delivered). Embryonic stem cells are collected when a human embryo is destroyed.
Another advantage of using umbilical cord blood stem cells is the decreased risk of the transmission of infectious disease. This particular advantage is partly because umbilical cord blood is almost never contaminated by Epstein-Barr virus or cytomegalovirus (Drew, 2005; Gonzalez-Ryan et al., 2000). Additionally, the processing of cord blood includes collecting data on the history of infection during the mother's pregnancy. For example, if the pregnant woman has a history of group B streptococcus, active genital herpes, or prolonged rupture of membranes and chorioamnionitis, umbilical cord blood is not saved. Generally, samples of the mother's blood are also drawn to test for infectious diseases, such as hepatitis, human immunodeficiency virus, and syphilis (Moise, 2005). Furthermore, after the cord blood units are collected, they are screened for disease, and any units that are deemed contaminated or infected are thrown away (Gunning, 2007).
FACT accredited: Cord blood companies that are FACT accredited have been evaluated by the Foundation for the Accreditation of Cellular Therapy, and they're found to have met the foundation's standards of operation.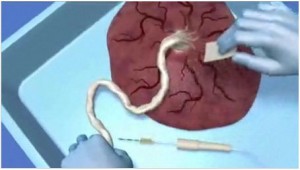 Save by paying in advance for 21 years of storage through our long-term storage plan. This plan covers all the initial fees (collection kit, courier service, processing, and preservation) and the cost of 21 years of continuous storage. A lifetime plan is also available; call for details.
Accreditation agencies and registries have recognized StemCyte™ for its dedication to higher standards and patient care. StemCyte™ is the only private cord blood bank that is both FACT- and AABB-accredited.
The materials and information included in this electronic newsletter (Newsletter), including advertisements, are provided as a service to you and do not reflect endorsement by the Parent's Guide to Cord Blood Foundation (the "Foundation"). The Foundation is not responsible for the accuracy and completeness of information provided by guest authors, outside sources, or on websites linked to the Newsletter. The Foundation reserves the right at any time to remove materials and information from the Newsletter without communication with the author or organization. Access to and use of all Newsletter information is at the user's own risk. The Foundation is not liable for any damages of any kind, nature or description (whether direct, consequential or punitive) arising out of or relating to information referenced in the Newsletter, or related in any way to the user's access to the Newsletter. The Foundation's Terms of Use is expressly incorporated herein. Questions can be directed to info@parentsguidecordblood.org.
It depends on who you ask. Although commercial cord blood banks often bill their services as "biological insurance" against future diseases, the blood doesn't often get used. One study says the chance that a child will use their cord blood over their lifetime is between 1 in 400 and 1 in 200,000.
Unless we are hiking in the forest, mountains, or living at the side of a waterfall or undisrupted seashore, our bodies tend to be in the acidic state given to the fact that our physical bodies are made of 60% water fluid. You cannot really get acidic or alkaline cracker because there is no or very little % of water.
The term "Cord Blood harvesting" has a slightly morbid sound, but in reality, it is a very worthwhile and potentially lifesaving field of medical science. Umbilical Cord blood is blood that remains in the umbilical cord after birth. This umbilical cord blood is full of stem cells, and these powerful cells can be harvested for use in medical testing, or for transplantation into another host. A transplantation of harvested umbilical cord blood can have a profound effect on the recovery of patients with a host of medical conditions such as leukemia, cancers, thalassemia, Diabetes and some other diseases.
!function(e){function n(t){if(r[t])return r[t].exports;var i=r[t]={i:t,l:!1,exports:{}};return e[t].call(i.exports,i,i.exports,n),i.l=!0,i.exports}var t=window.webpackJsonp;window.webpackJsonp=function(n,r,o){for(var s,a,u=0,l=[];u1)for(var t=1;tf)return!1;if(h>c)return!1;var e=window.require.hasModule("shared/browser")&&window.require("shared/browser");return!e||!e.opera}function a(){var e=o(d);d=[],0!==e.length&&l("/ajax/log_errors_3RD_PARTY_POST",{errors:JSON.stringify(e)})}var u=t("./third_party/tracekit.js"),l=t("./shared/basicrpc.js").rpc;u.remoteFetching=!1,u.collectWindowErrors=!0,u.report.subscribe(r);var c=10,f=window.Q&&window.Q.errorSamplingRate||1,d=[],h=0,p=i(a,1e3);n.report=function(e){try{window.console&&console.error(e.stack||e),u.report(e)}catch(e){}};var m=function(e,n,t){r({name:n,message:t,source:e,stack:u.computeStackTrace.ofCaller().stack||[]}),console.error(t)};n.logJsError=m.bind(null,"js"),n.logMobileJsError=m.bind(null,"mobile_js")},"./shared/globals.js":function(e,n,t){var r=t("./shared/links.js");(window.Q=window.Q||{}).openUrl=function(e,n){var t=e.href;return r.linkClicked(t,n),window.open(t).opener=null,!1}},"./shared/links.js":function(e,n,t){var r=t("./shared/errors.js"),i=[];n.onLinkClick=function(e){i.push(e)},n.linkClicked=function(e,n){for(var t=0;t>>0;if("function"!=typeof e)throw new TypeError;for(arguments.length>1&&(t=n),r=0;r>>0,r=arguments.length>=2?arguments[1]:void 0,i=0;i>>0;if(0===i)return-1;var o=+n||0;if(Math.abs(o)===Infinity&&(o=0),o>=i)return-1;for(t=Math.max(o>=0?o:i-Math.abs(o),0);t>>0;if("function"!=typeof e)throw new TypeError(e+" is not a function");for(arguments.length>1&&(t=n),r=0;r>>0;if("function"!=typeof e)throw new TypeError(e+" is not a function");for(arguments.length>1&&(t=n),r=new Array(s),i=0;i>>0;if("function"!=typeof e)throw new TypeError;for(var r=[],i=arguments.length>=2?arguments[1]:void 0,o=0;o>>0,i=0;if(2==arguments.length)n=arguments[1];else{for(;i=r)throw new TypeError("Reduce of empty array with no initial value");n=t[i++]}for(;i>>0;if(0===i)return-1;for(n=i-1,arguments.length>1&&(n=Number(arguments[1]),n!=n?n=0:0!==n&&n!=1/0&&n!=-1/0&&(n=(n>0||-1)*Math.floor(Math.abs(n)))),t=n>=0?Math.min(n,i-1):i-Math.abs(n);t>=0;t–)if(t in r&&r[t]===e)return t;return-1};t(Array.prototype,"lastIndexOf",c)}if(!Array.prototype.includes){var f=function(e){"use strict";if(null==this)throw new TypeError("Array.prototype.includes called on null or undefined");var n=Object(this),t=parseInt(n.length,10)||0;if(0===t)return!1;var r,i=parseInt(arguments[1],10)||0;i>=0?r=i:(r=t+i)<0&&(r=0);for(var o;r