There is little doubt that scientists believe umbilical cord blood stem cells hold promise for the future. Cord blood stem cells are already used to treat blood disorders such as aplastic anemia, and research is underway to determine if they can treat other more common conditions like type 1 diabetes. But many experts question whether many companies's marketing materials confuse or even mislead parents about the usefulness of private banking.
Umbilical cord blood was once thought of as a waste product. Now, years after the first successful umbilical cord blood transplant, more families seek information about whether or not to save their newborn's cord blood. Childbirth educators may be one of the main sources that an expectant family depends on to gain more knowledge about cord blood banking in order to make an informed decision. Preserving umbilical cord blood in public banks is advisable for any family; however, it is recommended that expectant families only consider private cord blood banking when they have a relative with a known disorder that is treatable by stem cell transplants. The childbirth educator is encouraged to be well versed on the topic of cord blood banking, so that as questions from class participants arise, the topic can be explored and addressed appropriately.
Frances Verter, PhD, founded the Parent's Guide to Cord Blood in 1998 and has been a Scientific Advisor to Community Blood Services since 2007. In 2011 the NMDP presented her with their Lifeline Award in recognition of her efforts to improve public education about cord blood donation.
Cryo-Cell, Viacord, and Cord Blood Registry are three of the oldest and largest private cord blood banks in the United States. They've been storing cord blood since the early '90s, and they're all accredited by the AABB. Cryo-Cell is located in Oldsmar, Florida; Viacord in Cambridge, Massachusetts; and Cord Blood Registry in San Bruno, California. Each of these banks has its own private labs that test for syphilis, HIV, hepatitis, cytomegalovirus, and human T-cell lymphotrophic virus (considered a precursor to leukemia); the testing is included in their registration fee.
The stem cells obtained from umbilical cord blood are also less likely than bone marrow stem cells to be rejected in transplants. Considered to be immunologically immature, umbilical cord blood stem cells produce significantly fewer natural killer cells, creating a substantial decrease in rejection. Consequently, cord blood stem cells require less rigorous antigen tissue matching for transplants than bone marrow stem cells (Sullivan, 2008). Research indicates that a mismatch of up to two antigen sites still provides successful clinical outcomes (Ballen, 2006; Fox et al., 2007). In fact, researchers report that the rate of rejection for cord blood stem cell transplants is half the rate of rejection for bone marrow transplants (Ballen et al., 2001). When compared directly in cases of mismatched antigens, there was clearly less rejection in transplants involving cord blood stem cells than bone marrow stem cells (Moise, 2005).
Several of these groundbreaking trials only use cord blood stem cells processed by Cord Blood Registry as a way of ensuring consistent quality. That means, saving with Cord Blood Registry gives families access to more uses and treatments.
Cord blood holds promise for future medical procedures. Scientists are still studying more ways to treat more diseases with cord blood. At Duke University, for example, researchers are using patients' own cord blood in trials for cerebral palsy and Hypoxic ischemic encephalopathy (a condition in which the brain does not receive enough oxygen). Trials are also under way for the treatment of autism at the Sutter Neuroscience Institute in Sacramento, California.
LifebankUSA is the only cord blood banking company to have pioneered the advanced technology to collect additional placental stem cells for today's treatments, and unique placental stem cells for future medical advancements. We discovered unique stem cells that remained trapped in the blood vessels of the placenta, so we created an innovative retrieval method to collect those cells.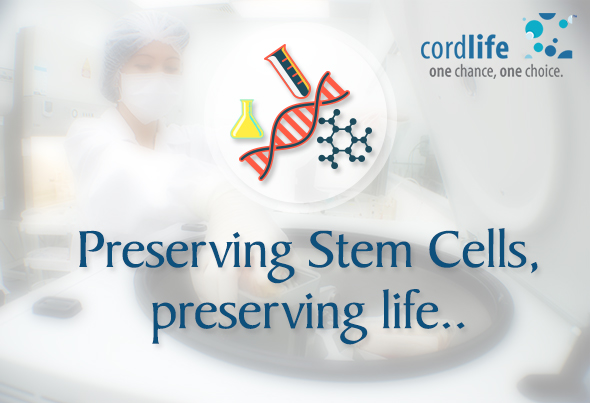 The choices expectant parents make today go beyond finding out the gender of their baby. They span beyond deciding whether to find out if their child, still in the womb, may potentially have a genetic disorder. Today, many parents must decide whether to store their baby's umbilical cord blood so it will be available to heal their child if at any point in the child's lifetime he or she becomes sick.
1. Spinal cord injury. In January, the Food and Drug Administration OK'd its first-ever human study of a medical treatment derived from human embryonic stem cells. The objective: help people with acute spinal cord injuries. While expected to assess only the safety of the treatment, the study also might show if the paralyzed volunteers can regain some feeling in and control over their lower extremities.
You need to plan ahead if you decide to store cord blood. Banks need to be notified four to six weeks before your due date if you're interested in donating blood. Once you do decide on a public bank, those affiliated with the Be the Match registry (bethematch.org/cord) will cover the costs of collecting, processing, and storing cord blood units.
A few years ago, cord blood was simply discarded as medical waste after a birth.  However, in the past few years, doctors have recognized that the stem cells have unique qualities which can be used in the treatment of certain cancers.  The most common medical use is for transplantation in many situations where bone marrow is considered.  In the future, it is possible that scientists will discover more diseases that can be cured with cord blood.
Medical shipping: Some cord blood companies use medical shipping companies to deliver cord blood; these companies guarantee that cord blood is kept a certain temperature and delivered to the facility by a certain time, typically within 24 hours of collection.
You've just visited the doctor and the good news is that you're going to have a baby and everything looks good. Thirty years ago, your doctor may have given you a baby book and information about products that sponsors want you to buy for your new addition. Today, along with pretty much the same materials, you'll be asked to consider saving the blood of your newborn that's left over in the umbilical cord and placenta after the delivery. Another big decision, and possibly a costly one.
Umbilical cord blood units are made available for research studies intended to improve patient outcomes, as stated in the Stem Cell Therapeutic and Research Act of 2005, Public Law 109-129, and the Stem Cell Therapeutic and Research Reauthorization Act of 2010, Public Law 111-264.
In recent years, umbilical cord blood, which contains a rich source of hematopoietic stem and progenitor cells, has been used successfully as an alternative allogeneic donor source to treat a variety of pediatric genetic, hematologic, immunologic, and oncologic disorders. Because there is diminished risk of graft-versus-host disease after transplantation of cord stem cells using matched related donors, the use of less-than-completely matched HLA cord blood stem cells may incur less risk of graft-versus-host disease than mismatched cells from either a related or unrelated "walking" donor, although this remains to be proven. Gene-therapy research involving modification of autologous cord blood stem cells for the treatment of childhood genetic disorders, although experimental at the present time, may prove to be of value. These scientific advances have resulted in the establishment of not-for-profit and for-profit cord blood–banking programs for allogeneic and autologous cord blood transplantation. Many issues confront institutions that wish to establish or participate in such programs. Parents often seek information from their physicians about this new biotechnology option. This document is intended to provide information to guide physicians in responding to parents' questions about cord blood donation and banking and the types and quality of cord blood banks. Provided also are recommendations about appropriate ethical and operational standards, including informed consent policies, financial disclosures, and conflict-of-interest policies for physicians, institutions, and organizations that operate or have a relationship with cord blood–banking programs.
5. Alzheimer's disease. Likewise, embryonic stem cells may come in handy against Alzheimer's disease, a progressive and deadly disorder that degrades and kills brain cells, leading to memory loss, cognitive decline, and behavioral problems. Stem cells may give rise to new treatments or even, some say, a cure; other experts have expressed skepticism.
There are usually two fees involved in cord blood banking. The first is the initial fee that covers enrollment, collection, and storage for at least the first year. The second is an annual storage fee. Some facilities vary the initial fee based upon the length of a predetermined period of storage.
Given the difficulty in estimating the need for using one's own cord blood cells for transplantation, private storage of cord blood as "biological insurance" is unwise. However, banking should be considered if there is a family member with a current or potential need to undergo a stem cell transplantation.
Public umbilical cord blood banks accept altruistic donations of cord blood and do not charge donation fees. Donated units are also processed, antigen typed, and frozen, ready for use. Unlike private banks, public banks do not reserve the units for the family that donated them; rather, units are available to the general public. In fact, a family that donates the blood would be no more likely to be a recipient of the blood than anyone else in the general population. Public cord blood banks function much like venous blood banks. The blood is released on an "as-needed" basis, and a processing fee may be charged to recoup some of the cost of storage (Moise, 2005; Percer, 2009).
Families that are predisposed to certain diseases, that are ethnically mixed, that are adopting a newborn child, or that have a family member who may need a stem cell transplant should take special care to understand the value the cells may provide and their storage options.
In a number of genetic, hematologic, immunologic, metabolic, and oncologic disorders, reconstitution of bone marrow (transplantation) can be a potentially life-saving procedure.1–16 Allogeneic (related or unrelated) or autologous (self) bone marrow or peripheral blood stem cells are the usual sources of hematopoietic progenitor cells to achieve this goal. If autologous stem cells are not available or cannot be used, the best option for successful reconstitution therapy is to secure stem cells from an HLA-matched sibling.1,3,11 Close matching confers a higher probability of successful engraftment and minimizes the risk of potentially fatal graft-versus-host disease. Unfortunately, there is only a 25% chance for identifying a full HLA match in a sibling donor.17,18
StemCyte™ has extensive experience providing cord blood units for transplants in children and adults with life-threatening diseases. Other private cord blood banks may have provided family-related cord blood for transplants, but only StemCyte™'s cord blood units have been used to 2000 plus transplants to date.
Now when you know what is cord blood, you might be wondering how it is collected. Well, cord blood is collected right after the birth of your little one. The procedure is completely painless and free from risks as well. The procedure is so quick, hassle-free and painless that neither a newborn nor a new mother realizes the entire procedure has taken place. Following is a list of steps depicting how the procedure is actually convened. Read on, to grasp a better insight on cord blood banking and its proceedings.
Because of their ability to regenerate, umbilical cord stem cells may provide the answers to conditions such as various forms of heart disease and diabetes. Medical researchers studying umbilical cord blood stem cells have recorded several positive observations in animal studies, including instances where cord blood stem cells have improved vascular functions in injured tissue, as well as blood flow and improved overall heart function.
The information on our website is general in nature and is not intended as a substitute for competent legal advice. ConsumerAffairs.com makes no representation as to the accuracy of the information herein provided and assumes no liability for any damages or loss arising from the use thereof.
Tom Moore, CEO of Cord Blood Registry, the largest private cord blood banking firm, told ABC News conceded that there was no proof that the transplants worked, but added that there is strong anecdotal evidence.
FACT accredited: Cord blood companies that are FACT accredited have been evaluated by the Foundation for the Accreditation of Cellular Therapy, and they're found to have met the foundation's standards of operation.
Wall DA, Carter SL, Kernan NA, et al. Busulfan/melphalan/antithymocyte globulin followed by unrelated donor cord blood transplantation for treatment of infant leukemia and leukemia in young children: the Cord Blood Transplantation study (COBLT) experience. Biol Blood Marrow Transplant.2005;11 :637– 646
My one of the colleague used a cord blood bank process. They researched alot and at last the company they choosed is Umbilical Cord Blood Bank, Stem Cell Banking – Baby's Cord Storage as they found it very safe and at reasonable price.