If you want the blood stored, after the birth, the doctor clamps the umbilical cord in two places, about 10 inches apart, and cuts the cord, separating mother from baby. Then she inserts a needle and collects at least 40 milliliters of blood from the cord. The blood is sealed in a bag and sent to a lab or cord blood bank for testing and storage. The process only takes a few minutes and is painless for mother and baby.
There are two main types of cord blood banks: public and private. Public cord blood banks are usually nonprofit companies that store your donated cord blood for free, to be used for any sick child in another family or for research purposes, so accessing and using your own cord blood is not guaranteed. Private cord blood banks are companies that require a registration fee (plus annual storage fees) for your cord blood, but it is saved specifically for your own family, so you'll have ready access to it.
Depending on the predetermined period of storage, the initial fee can range from $900 to $2100. Annual storage fees after the initial storage fee are approximately $100. It is common for storage facilities to offer prepaid plans at a discount and payment plans to help make the initial storage a more attractive option for you and your family.
Cord blood contains stem cells that can save lives.  Patients requiring a stem cell transplant will receive cells from one of three sources: bone marrow, circulating blood, or umbilical cord blood.  The first two exist in all healthy adults, but cord blood can only be harvested and stored at birth
The evolution from pluripotent stem cells down to blood stem cells is currently poorly understood. The latest indication is that, under the right conditions, stem cells in cord blood can be teased to grow into other types of tissue besides blood. This would open up an entirely new realm of potential treatment through the use of stem cells.
CBR presented data, in the form of a poster, at the 2008 joint annual meeting of the Center for International Blood and Marrow Transplant Research (CIBMTR) and the American Society of Blood and Marrow Transplants (ASMBT). In the poster, CBR showed results obtained during implementation of the AXP System. The published abstract reported that, under the controlled conditions of the study, the average recovery rate of the mononucleated cell (MNC) population was approximately 99% (specifically 98.7%). The results presented at this meeting are consistent with some of the high MNC recovery rates reported by other groups that have adopted AXP System (Rubinstein P. Cord blood banking for clinical transplantation. Bone Marrow Transplantation. 2009;44:635-642).
CBR's lab stores over 700,000 cord blood and cord tissue stem cell units. As a result of our size, we are able to continuously invest in clinical trials, product innovation, and our lab and storage facility. We own our state-of-the-art facility. And, we continually invest in quality and security. This means our families will always have access to their stem cells.
Despite the benefits of using umbilical cord blood stem cells for transplant, the process also has some disadvantages (see Table 3). For stem cell transplants to be successful, measurable signs of engraftment must occur. Engraftment is the opposite of rejection and indicates that the stem cell transplant is "working." Two measurable signs of engraftment are the recovery of both neutrophil (a type of white blood cell) and platelet (a clotting factor) production. These two clinical signs of recovery take longer to occur in umbilical cord blood stem cell transplants than in bone marrow stem cell transplants. In other words, the lab values for white blood cell production and platelet production take longer to increase after umbilical cord blood stem cell transplants than after bone marrow stem cell transplants (Hess, 1997; Moise, 2005).
A person will always be a 100% match to his or her cord blood, which is the best fit as there are some conditions that can only be treated with one's own cord blood stem cells (or a perfect match). However, other conditions can be treated using donor stem cells that are partial genetic matches.
Insurance assisted payments: Some cord blood companies work with insurance companies that can help parents pay for cord blood processing and storage, particularly if one child in the family has an illness and might be able to benefit from cord blood use.
Prior to transplanting any type of tissue, a "matching" process must occur to increase the success of the transplant and decrease the likelihood that the transplant will be rejected. The rejection of a transplanted tissue is called "graft versus host disease." The matching process dates back to the late 1950s when the human leukocyte antigens were discovered. There are two classes of human leukocyte antigens. The first class is located on the surface of almost all of the cells with a nucleus within the body of the cell. The second class of human leukocyte antigens is located on the surface of immune cells. Each of the two classes of antigens has three subgroups, creating six antigens for which matching can occur. Thus, a "6 of 6" matching of the antigens represents a "perfect" match. Beyond the matching process, other factors contribute to the success or failure of a stem cell transplant. These factors include, but are not limited to, the age of both the donor and the patient, the type of disease being treated, and the number of stem cells being transplanted (Moise, 2005).
Cord blood banks will use some sort of processing method, and the above stats are metrics that we look at for processing efficiency. CBR proactively decided on AXP with dry heparin because we believe that utilizing this combination yields the best sample for our clients
Private (commercial) cord banks will store the donated blood for use by the donor and family members only. They can be expensive. These banks charge a fee for processing and an annual fee for storage.
The stored blood can't always be used, even if the person develops a disease later on, because if the disease was caused by a genetic mutation, it would also be in the stem cells. Current research says the stored blood may only be useful for 15 years.
Many expectant parents would love the opportunity to bank their baby's cord blood and cord tissue, but with an initial fee of $1600–$1800 for a quality service and an annual fee of $150–$175, the cost of banking cord blood may seem out of reach. At Cryo-Cell, we are committed to offering a high standard of service at the best price possible, with absolutely no unexpected fees or hidden surcharges. To help keep cord blood banking in everyone's budget, we offer in-house financing options that begin for as little as $199 down and $128 per month. In addition, we regularly offer specials and have a number of discounts for current clients, referrals, multiple birthes and medical professionals. We will even meet the price of any reputable competitor through our best-price guarantee.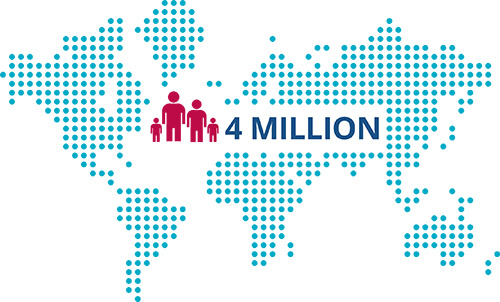 Some ethical concerns over umbilical cord blood banking warrant mention. As previously stated, the AAP (2007) acknowledges that claims in advertisements for private cord blood banks are not accurate. In fact, some of the statements made by private cord blood banks are outright misleading (Fox et al., 2007), which raises questions about how informed consent for cord blood collection is obtained. Legally, the cord blood belongs to the child, but the consent of the mother alone is usually obtained for collection, and the consent of the father is rarely considered (Ballen, 2006). Because the cord blood now has a "value," the person who obtains consent and that same person's professional connection to the private cord blood bank may come into question (Pinch, 2001).
We offer standard and premium cord blood processing options. Our standard service has been used in thousands of successful transplants since 1988 and begins at $1600. For $350 more, our premium service uses a superior new processing method that greatly enhances parents' return on investment. (Please visit our processing technology page to learn about our cord blood processing methods.) For an additional $950, you can also store your baby's cord tissue, which has the potential to help heal the body in different ways than cord blood.
CBR works with Quick International, a private courier service with 30 years of experience as the market leader in the transport of cord blood, tissue, organs, and the U.S. blood inventory. CBR offers our clients a unique "Track My Kit" system to provide progress updates as the kit containing the cord blood travels to our lab. If it gets lost or damaged while in transit with Quick International, you are covered by a $2,500 warranty.
Cord blood transplants aren't entirely new — they've been in use for about 20 years. In fact, the outcome of transplants has improved in the last 10 years, says Joanne Kurtzberg, M.D., director of the pediatric bone marrow and stem cell transplant program at Duke University.
Since the first unrelated cord blood–banking program was started at the New York Blood Center in 1991,40 a number of public cord blood–banking programs have been established throughout the world to collect, type, screen for infection, and cryogenically store cord blood for potential transplantation to unrelated and related recipients.41–49 Some of these programs had been funded by the National Heart, Lung, and Blood Institute (National Institutes of Health), the National Marrow Donor Program, the American Red Cross, or academic programs based in not-for-profit organizations. One cord blood program initiated by the National Institutes of Health exists solely for sibling donor collection for families who are likely to consider cord blood transplantation because a first-degree relative has been diagnosed with a disease that is treatable with allogeneic transplantation. In this bank, families own the cord blood, and it is shipped to a designated transplant center in the event a medical decision to proceed with cord blood transplantation is made.50
Save by paying in advance for 21 years of storage through our long-term storage plan. This plan covers all the initial fees (collection kit, courier service, processing, and preservation) and the cost of 21 years of continuous storage. A lifetime plan is also available; call for details.
Advertisements on this site are placed and controlled by outside advertising networks. ConsumerAffairs.com does not evaluate or endorse the products and services advertised. See the FAQ for more information.
So what are your options? You have three choices. One is to store the cord blood with a private company at a cost to you ranging from $1,500 to $2,500 and an annual storage fee in the ballpark of $125. Secondly, you can donate the cord blood to a public bank, if there is one working with your hospital, and your doctor is on board with the idea. There are also public banks that accept mail-in donations, if you register during your second trimester and your doctor is willing to take a short training class on-line. Zero cost to you. The third option is to do nothing and have the cord blood, umbilical cord, and placenta destroyed as medical waste.
Your own cord blood will always be accessible. This applies only if you pay to store your cord blood at a private bank. The blood is reserved for your own family; nobody else can access or use it, and it will never be allotted to another family or be donated to research. If you donate your cord blood to a public bank, on the other hand, anyone who needs compatible cord blood can have it; there's no guarantee that it will be available if and when your family needs it.
Many private banking proponents think that by storing your baby's cord blood stem cells, you are positioning your family with a form of biological insurance in the event that your child or a close family member has a treatable disease.
Parents who wish to donate cord blood are limited by whether there is a public bank that collects donations from the hospital or clinic where their baby will be born. Search our list of public banks in your country. Parents who wish to store cord blood and/or cord tissue for their family can find and compare private banks in your country. Family banks usually offer payment plans or insurance policies to lower the cost of cord blood banking.
So, unfortunately, depending on where you live your overall physical and mental health will vary significantly. Of course, through the right breathing, meditations, and positive thinking we can very much improve our health too, but not many people can or are willing to do that.
Publicly banking your baby's cord blood is a wonderful gift. Unfortunately, however, your chance of donating your baby's cord blood is very low due to the regional and financial constraints of public cord blood banks. It is estimated that cord blood from less than 3% of all U.S. births can be collected and stored by the public banks. We support any efforts to increase the resources available for public banking.
An accredited lab. In the United States, the FDA requires all public banks to have a Biologics License Application, but not private banks, though they are registered and inspected. Both public and private banks should have extra accreditation, which means banks are evaluated for the quality and accuracy of work. The two companies that handle accreditation are the American Association of Blood Banks (AABB) and the Foundation for the Accreditation of Cellular Therapy (FACT). Look for a bank with its own lab (some banks use labs at other banks), which means more regular quality control and testing standards.
Wall DA, Carter SL, Kernan NA, et al. Busulfan/melphalan/antithymocyte globulin followed by unrelated donor cord blood transplantation for treatment of infant leukemia and leukemia in young children: the Cord Blood Transplantation study (COBLT) experience. Biol Blood Marrow Transplant.2005;11 :637– 646